Go To Page:
[1]
[2]
[3]
[4]
[5]
[6]
[7]
[8]
[9]
[10]
[11]
[12]
[13]
[14]
[15]
[16]
[17]
[18]
[19]
[20]
[21]
[22]
[23]
[24]
[25]
[26]
[27]
[28]
29
[30]
[31]
[32]
[33]
[34]
[35]
[36]
[37]
[38]
[39]
[40]
[41]
[42]
[43]
[44]
[45]
[46]
[47]
[48]
[49]
[50]
[51]
[52]
[53]
[54]
[55]
[56]
[57]
[58]
[59]
[60]
9/10-11/04 Friday Continued Saturday: Bad Blogger
Yeah, I have not kept up with my blog - spank me. I just haven't had time with work being soooo terribly busy + getting ready for Pop's party on Saturday.
Knitting: I have been working on the socks during my smoke breaks at work so the cuff is almost finished.
Crocheting: I'm working on finishing the Christmas afghan - I frogged the edging I put on there and I'm working on the designs that go between the panels. After that I'll add the braided fringe and I'll have another FO.
Reading: I finished reading: Breath, Eyes, Memory


- Very Good, Quick Read! This morning I started: Bitterroot Landing
Work Issues: I think I'm finally over the worst part. With us being so short handed, I was handed the responsibility of being supervisor over several groups - one of them being the night building monitors. The schedule for them to work is 6-11 during the week and 10 - 11 on the weekends. Here we have three grown women who are grad students - but you'd never know it by all the complaining I had to listen to. First blush on the situation for me was, "You want the job or not?" I didn't know how politically tied it was so I was careful about answering + I know zip about this area. They complained over:
1) Not liking the hours they were assigned - why do I have to work most of the weekend, why not someone else share this with me?
2) I have religious services that night - I can't work on Friday, Saturday, (fill in the blank).
3) I'm going out of town - she can't cover for me or she'd be working 14 hours in one day and the other person can't work on that day.
4) Get this - "the last bus leaves campus prior to my shift ending ----- can I leave 40 minutes early every night so I can catch my bus?"
Hello, let's go back to my first thought - you want the job or not? They get several thousand dollars to work 13 hours a week and they want to cry the whole time. I have a file thick as my head from all the printouts of e-mails they've sent me. After several shuffling of schedules, numerous times getting help from the Asst Chair, several meetings with them showing up at my office and huffing around about an issue....I wanted to hurt someone and myself. I had my boss send me an e-mail that I could forward to them that basically says what I first thought. I had him do this since he is big cheese + any concessions he made and is now backing out on, are covered and not by little peon me. Funny thing is, after forwarding his e-mail about "do it or be fired" ---- haven't heard a peep. This is exactly why I've always said "I've done the supervisor crap before and I don't want it." I told them here at this job, "keep the $, don't promote me, I don't want it." Some people just don't listen.
I hit the Foley's Red Apple sale again with my 15% off coupons. I got the coolest winter outfit by Ralph Lauren. The pants were $50.14/originally $119.99 and a matching shirt of about the same savings. I never jump out there and splurge on a pair of pants like that but these were just a had to have + I saved almost 60%. I love the RL style although it is not in my price range. I found a cute jacket-type shirt that was 50% off but hell, it was $200 originally so I was pleased that I had found a similar at a yard sale last Saturday. I love the colors and the patterns of the RL clothing - I know what I'm gonna be watching. The fit of there clothes are good for my body shape too. Too bad they're so expensive.
Ok - I gots things to do for the party today so I'm outta here.
9/8/04 Wednesday - More Than Hump Day



How is that for a mirror taking, hide my face, show the shawl picture? Don't even mention the white/pink striped shorts - yes, they belong in the thrift store pile but some things just haven't had all the good worn out of them yet. Shawl is awaiting its new mother - ends are woven in and she is ready to keep DS warm for the winter.

Well, the SSRP Beta Box arrived here yesterday. I came home early from work with booming ears and got *zero* rest since the guy delivering firewood got lost, DFIL decided to show up, SSRP box arrived...you know the drill. After I took care of the firewood guy, shot the shit with DFIL, I greedily dug through the box and wanted one of each, please. Then I realized I didn't want to give up one of each from my stash so I had to get serious. I kept 4 things and put in 5 things of equal or greater value so I think all things considered ~ we have a good exchange. I taped up the box and headed across the street to UPS and off it went to Dallas. They said it should arrive there today so I'm officially finished with the exchange. Guess it means no more play, get back to work. I may bake DFIL's cake tomorrow and maybe tonight start the finishing preps on the lingering Christmas 'ghan that has its feelings hurt. Wondering if it will be stubborn and not speak to me for awhile or jump out there and be happy that I still love it but didn't have time?
9/7/04 Productive Labor Day Weekend
Tuesday - back at work but I did accomplish a lot over the long holiday weekend. As you see, I took pictures of the pink sock on DD's foot. She likes it and it fits well.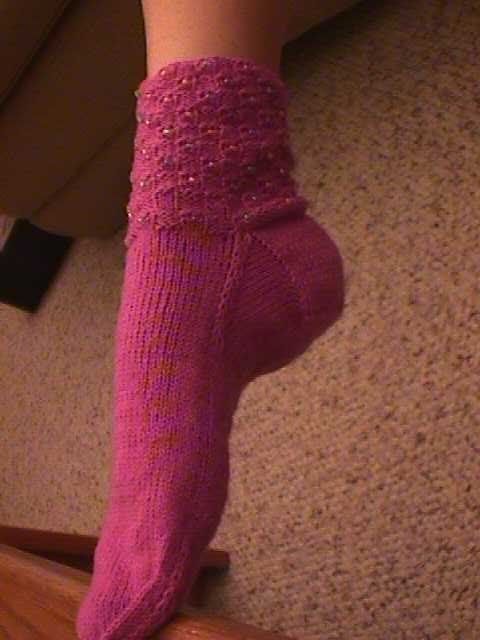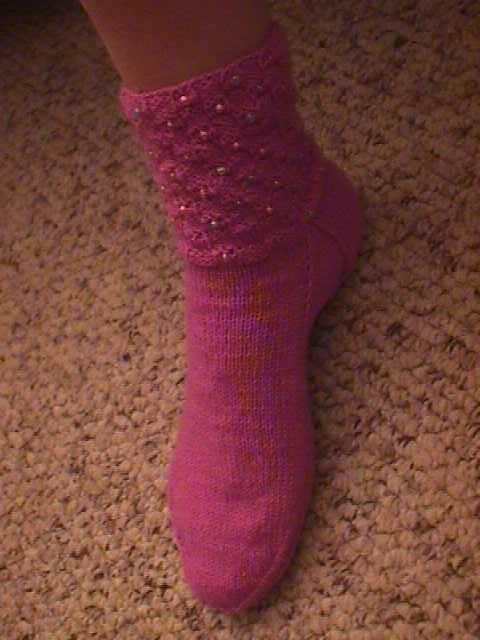 Last night I finished the top hat for DH. Together we watched the washer to keep an eye on its felting progress. He thought we wouldn't get there from here since our first attempt turned out to be the size of a small trash can and that is exactly what I'm doing with it - using it as a trash can. As you see, the hat turned out well. From here we can tweak the pattern if he decides he wants more than this one. I'd like for him to have one in brown - then again, I'm the color coordinating woman from hell.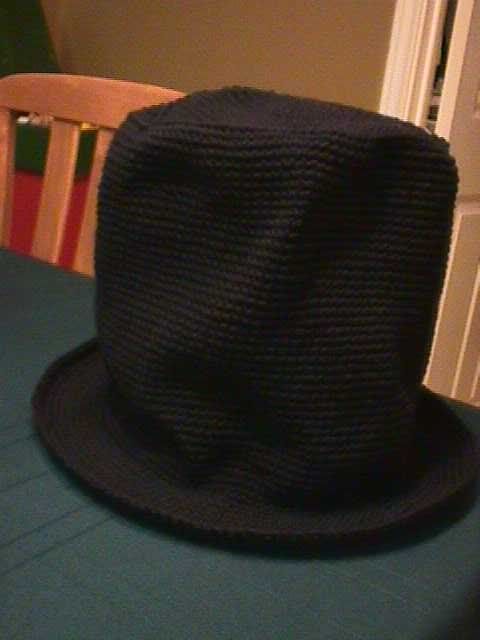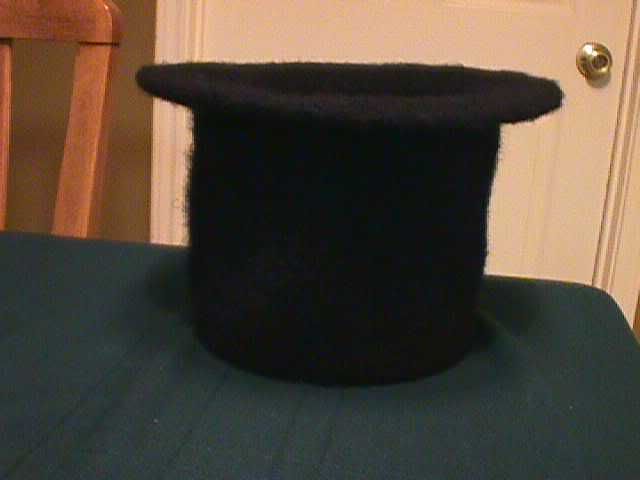 I also finished off the shawl for DS. I need to do the final preps on it so that it can head to its new home.....another FO. I will post a picture of it soon ~ hopefully this week.
We have a big week ahead of us - short work week, DS's football game, get ready for Saturday's party + last night DH & I remembered how much DFIL begs for a slice of DH's birthday cake every year...so guess what I get to make? A three layer, german chocolate cake. He'll be thrilled it is just always such a juggle to get everything fit into your week. And...I don't feel good. My ears contain fluid and everything I hear is muffled and loud. It is hell driving to work. Well, it is when you drive 100 mph cuz wind noise hurts the ears.
What else did I finish off? The pink Trendsetter Aura scarf for DD. All it needed was the ends woven in and the fringe added.....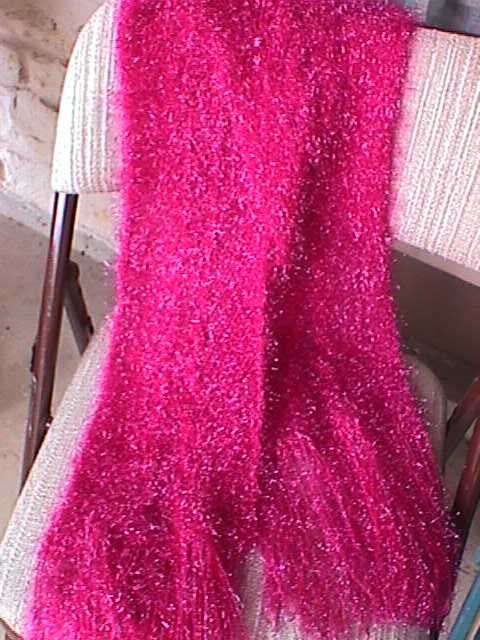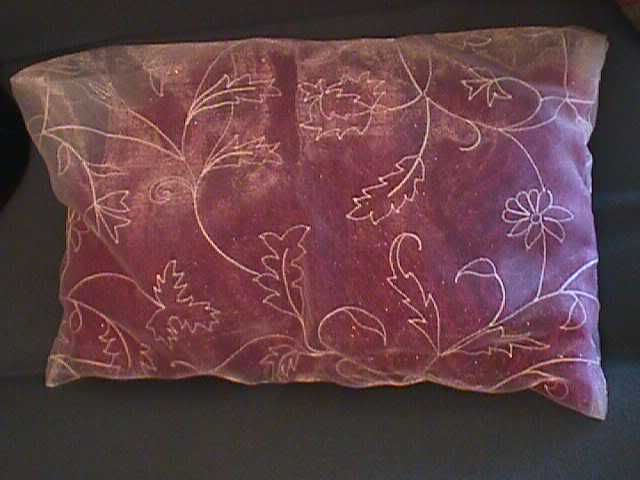 Plus I made this little bag for her to store it in - isn't it pretty? I have some of this yarn in a magnificent blue color - don't know who will get it but I have it in the stash.
Yesterday I cut out a bag/purse for me to sew up. It is made of contrasting fabric samples - it is made of toile so I think it will be pretty but we shall see. I was proud of myself for finishing up some projects and not touching the pink sock - I left it to work on while at work and I worked on it again this morning. I have to make time for the pumpkin hats and the socks for DS's FIL. I pulled out the yarn for these so they're sitting on go, just waiting on my attention.
Have a nice day ~ welcome back to work.
9/6/04 Monday Murray



What is this lurking under the hassock? Why it is Murray...Alexdra...Beauty!!! She was so cute - we were playing with the fishing pole that has a battery operated squeaky mouse on it and she got under the hassock to play. She'd use her paw to push up the skirt, peek out, then drop the skirt back down.

I hope you enjoy Labor Day!



9/5/04 Sunday

Monsters, Inc. Blanket & Pillow case

I haven't left the house since getting home Friday evening after working out ~ loving it. I trimmed the bushes around the house, swept/raked up that mess, cleaned out my closet, vacuumed the house, finished laundry, knit on the shawl, sewed this blanket and pillow case for GB, sewed and fulled these two purses and credit card holders from recycled sweaters.

I think the sweater is much happier being made into these two bags and credit card holders. I need to finish the cc holders - I want to roll down the one edge, add a button or two and then cut a button hole or two on the flap. I made one of these from a slit pocket in a coat and it hasn't left my purse in a year. I've needed something that will carry my cards, IDs, mirror, business cards, etc. without carrying a bulky wallet. I like carrying a small purse with my ccs, my lipstick, my phone and my cigs. What else could a woman need?

The reason the Monsters, Inc. blanket got made? Well, I'm still trying to clean up this office. It is closing in on me and this sheet was laying over some of the yarn stash. It was something I picked up at a thrift store and was for a toddler size mattress - pretty small + fitted. GB asked if I'd make him a pillow case from it but I was able to splice to make the pillow case and still get a blanket out of it. I think it turned out cute. I also got a chance to use up a remnant - I liked the blue leopard print cuz it kinda looked like "monstery" to me. Plus it was easy to get to since it is one of a thousand pieces that don't fit in the plastic containers.

What's next? Well, I need to finish the book 'Tis ---- then I'm moving on to a new one. I need to add fringe to the Trendsetter Aura scarf in pink so that I'll have another FO. Continue on the shawl. Boy, I messed up there on Friday. I know better (repeat to self: know better) than to knit when I'm tired. I grabbed it off the couch Friday and got to knitting for a few hours and when I looked at it, the cables were too tight. Hmmm. Oh yeah, cable every other row not every row. So, I had to rip out a couple inches. Then I started anew and got off by a stitch so had to back out of that. Yeah, I went to bed at that point. Well, I've progressed way past the frogged yarn so I'm caught back up and moving forward. I did the same thing on the cuff of the second beaded sock. I was working on it Friday at work and got off by a needle and had to frog back a row. Just disgusts me sometimes and I make myself go on or I give up on the project.

Ok - I'm off to the attic to get down the fall decorations. Hope to finish cleaning and decorating tomorrow.


Recycled Sweaters - Project bags, purses, credit cards holders, who knows?
9/3/04 FRIDAY!!!
Phew....never thought we'd get here. Why is the anticipation of a holiday greater than the holiday itself? It seems that everyone gets their hackle up the week prior to make sure that you appreciate the one day off you're given. Right now my coworker Adam is punishing me so I guess it is his time of the month AGAIN.
We attended DS's 2nd football game last night - they could do nothing wrong. They won 33-6 and I'm sure DS was on cloud nine. I like their big "Whoop, Whoop, Whoop" at the end when they win. I like watching their "boy" rituals.
Knitting/Crocheting: As you may notice, I updated the progress bars. Top Hat: I'm about 70% finished - working on the brim and then a dip in the washing machine. Pink Beaded Socks I finished the first sock and some of the next cuff. I worked on the cuff while at DS's game.
New project on the horizon


I pulled the yarn for this and today I have to order 16" #8 circulars and #5 dpns. I know I need to make at least three of these - Cousin Tracy's baby, Friend Jessica's baby and GB. No telling who else I'll think of ~ have yarn, will knit. We'll see if I can even accomplish knitting three of the same thing.
Mom's Fuzzy Feet were too small for her - I think it wasn't so much the length as it was her extremely high arch. I may buy the clog pattern so that all she has to do is slide in + I can order the leather soles and make them even nicer.
Words to the Wise: If I had my life to live over, I would perhaps have more actual troubles but I'd have fewer imaginary ones.  ~Don Herold
8/31/04 Happy Birthday Aunt Tertoe!



Look what I spent some of my birthday money on ~ pumpkin doilies for the fall! I love this and the lady had two of them so they're MINE, ALL MINE! I can't wait until they get here. I'm so ready for fall - I need to get up in the attic and pull down all my fall decorations.

Not much happening in the knitting/crocheting world. I did get the sock down to the toe decrease section. I worked on it while having a desperately needed pedicure. The lady doing my toes, Judy, was amazed at my ability to make a sock. I attempted to show her that it is easy and does not demonstrate my intelligence in any way......like I said, attempted. Yeah, DH picked up GB so that I could go workout and then get my toes done. What a guy. He's going to pick him up M,W,F so fat girl can workout. Again, what a guy!

Words to the Wise: Cooperation is spelled with two letters. -WE-
8/30/04 Monday



Here they are...the projects I've been working on. The first pink sock is almost finished. DD's foot is larger than mine so I need to have her measure her foot to make sure I get the length correct. My first pair of socks I made too small and it makes my toes curl or slides down my heel. I need to pull out the toe and do a tad bit of length on them. Add it to the list Oh List God.

The second pic is the felted top hat I am designing for DH. This is the second attempt since the first one came out so large that I'm now using it as a trash can. I'm down to working on the brim so it should go swimming this week some time. Keep your fingers crossed for success.

I put some of the fabric samples up for sale. I went through them and sorted by fiber content - I have way more than one person will ever need so up for auction they go. Interested? My Auctions

Back at the grind today - I'm hoping that work is getting a cake for my birthday. Niki (coworker) said that she was going to get this "better than sex" cake and I hope she comes through for me cuz girlfriend needs some cake.

Words to the Wise: Learn to love yourself and you'll always be in good company, for wherever you go, you always take yourself with you.



Go To Page:
[1]
[2]
[3]
[4]
[5]
[6]
[7]
[8]
[9]
[10]
[11]
[12]
[13]
[14]
[15]
[16]
[17]
[18]
[19]
[20]
[21]
[22]
[23]
[24]
[25]
[26]
[27]
[28]
29
[30]
[31]
[32]
[33]
[34]
[35]
[36]
[37]
[38]
[39]
[40]
[41]
[42]
[43]
[44]
[45]
[46]
[47]
[48]
[49]
[50]
[51]
[52]
[53]
[54]
[55]
[56]
[57]
[58]
[59]
[60]