[Home Page]
St. Timothy's Lutheran Church


535 Lamp Post Lane
Aston, PA 19014-2696
610-494-2444
stlc@comcast.net

Twitter icons

SERVICE HOURS:

Traditional Service: 9:15 a.m.
Sunday School: 9:15 a.m.
Contemporary Service: 11:00 a.m.

LENTEN SERVICES:

April 17 – Maundy Thursday 6 pm.

April 18 – Good Friday 7:30 pm.

EASTER SERVICES HOURS:

Traditional Service: 9:15 a.m.
Contemporary Service: 11:00 a.m.

Easter Sunday Services:

Traditional Service: 9:15 a.m. Contemporary Service: 11:00 a.m.

Click HERE for directions
Welcome to St. Timothy's Lutheran Church. St. Tim's is a member of the Evangelical Lutheran Church of America. St. Timothy's Lutheran Church is a community of people, called by God to proclaim Jesus Christ as Lord, providing a center for spiritual growth through worship, instruction, fellowship, service and love as we strengthen each other for daily life in Christ.
Online Shopping is back! The eScrip Online Mall is a collection of over 1,000 online merchants where you can shop online at the
same websites you have come to know and trust. By clicking on the icon below and shopping online, St. Timothy's can earn money.
Click the eScript icon below to start earning money for St.Tim's today!!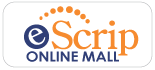 Revised: November 25, 2013
Copyright © 2013 St. Timothy's Lutheran Church, Aston, PA. All rights reserved.